Frequently Asked Questions
This page is where you'll be informed on what we do and how we operate, hopefully answering some of your inevitable questions. If you don't see an answer to your question(s) please email or call us so we can assist you with your enquiry. We prefer to deal directly with the end users of our furniture.
Can I have my furniture custom made?
Although all our furniture is made to order, we offer a set range of suggested dimensions to get you started. You are able to alter dimensions and timbers to suit your needs and taste, most of the time without adding any extra dollars. We can also explore many other options and upgrades which may have additional costs attached. We call it 'personalisation' rather than 'customisation' but if you wish to obtain a quote for furniture ideas without using any of our standard designs, an engineering, feasibility and design fee may apply upfront.
Do we make kitchens or laundries?
We specialise in designing and hand crafting premium timber furniture you will cherish for decades. We don't make kitchens or laundries, we only craft fine, timeless, stand alone timber furniture. We strongly recommend your kitchen maker stays in the kitchen as most don't possess the skills, materials, equipment or experience required to produce world class quality, timber furniture that you would be proud to own. We have easily arrived at this conclusion from our decades of experience in the furnishing industry while it's constantly reinforced by our customers who have mistakenly let kitchen makers invade the rest of the home, same story time and again. In a nut shell, kitchen makers make kitchens, not furniture…
Do we have a showroom?
While we have many pieces on display for inspection and purchase at our factory/showroom, we would class this website as our "showroom"
No longer retailing, we're again operating as a factory direct manufacturer dealing directly with the public where you can actually see your furniture being made. We don't mass produce and we don't hold stock other than our display furniture. Our factory is set up to manufacture individual items to order, this allows us to pay special attention to your requirements and control your job from start to finish. Bring in your own ideas, photos, floor samples etc or anything you think will assist us in creating the perfect furniture to suit your home.
Wax on or wax off ?
Definitely wax off. Waxing furniture is an old technique using old materials. It is an ancient method of sealing timber, generally used today by backyard or semiskilled furniture makers who don't have the ability, facility or skill to apply modern lacquers. Waxing pine tables can be acceptable due to its natural disinfectant qualities but its not acceptable on hard woods. Wax will cause the timber to harbour bacteria, trap dust and highlight finger marks and scratches. It has to be periodically reapplied, has a dull, lifeless appearance and it offers nothing in the way of protection to the timber. Food acids can and will attack the timber as there is zero protection offered by waxing.

Once wax has been applied it cannot have a clear coat of lacquer applied over it, therefore wax needs to be reapplied for the life of the furniture. You should never apply wax over lacquer as some retailers suggest.
Furniture polishing is the final stage in creating beautiful, lasting furniture and is a craft in itself. Quality, modern clear coatings (single pack lacquer or premium polyurethane) are a substantial portion of the overall cost of producing high quality furniture. They offer a high level of protection from scratching, beautify the timber and are UV stable to eliminate yellowing of the lacquer, essentially the lacquer takes the wear and tear, not the timber underneath. It makes cleaning your furniture a breeze and can be cut back and refreshed after years of use to bring your furniture back to brand new.
What is the difference between solid and veneer?
Veneers are made from first grade logs only, they are stable, even in grain character, cost effective, bonded to a MDF sub straight up to 3.6m with a density similar to that of solid Jarrah making veneer top tables more impact resistant than most solid timbers, an excellent quality for high use furniture.
The sustainability and eco-friendliness of natural timber veneers is very important to people these days. Natural timber veneers will ensure that our industry has enough beautiful timber available for our children's children to appreciate. One solid timber table can equate to approximately 15 veneer tables without changing appearance, in fact here in our showroom the veneer tables regularly gain more attraction and attention than their solid timber equivalents.
Solid has its place in revealing natural variations in timber and creating heritage and heirloom pieces which can last centuries. Crafting pieces from solid timber has drawbacks in regards to labour intensity, it is subject to slight movement, high cost and limitations of design scope. There is a misconception that solid timber equals quality. We believe quality materials, craftsmanship, value for money and attention to detail is the foundation of quality furniture.
What timbers do we use?
By feverishly sourcing premium Australian grown materials, we have access to high quality kiln dried, select and feature rich hardwoods and veneers. Tasmanian Oak, Vic Ash, Messmate (thats code for Aus Oak with gum veins) Tassie Blackwood and WA Jarrah (although to a lesser extent these days as red furniture falls out of favour) We also source special timbers like WA Marri, Blackhole Black butt, Mahogany plus American white oak/black walnut along with a spectrum of designer veneers too numerous to mention. We are makers of premium quality furniture therefore we do not manufacture from pine or from recycled timbers.
How do we stain and finish our furniture?
We like to get people to explore and appreciate natural timber colours before staining. When we do, we apply the desired stain to the raw timber not the lacquer. We then remove it by hand and use several sealer coats to lock it in. We then finish with a quality single pack top coat. For high use surfaces like tables we recommend our premium grade 2 pack polyurethane from Sydney, specially formulated for the furniture industry in 5% (matte) and 30% (satin) gloss levels.
There's "leather" and then there's leather…
Remember the old ad, oils ain't oils? well leathers ain't leathers. Premium full grain drum dyed leathers are what we use as they are supple, retain pores for breathability, last for many decades even centuries and are of a premium, unsurpassed quality. On the flip side, bi-cast, split or bonded "leathers" are made from the layers below the premium 'top grain' hide, hence the term "split" leather. Although technically still made from cow hide, these skins are not dyed but rather painted with an acrylic paint making them hot and sticky to sit on (as the paint clogs the natural pores) it stiffens the hides and it will definitely crack and peel off over a relatively short period of time. This particular type of leather is found on majority of imported chairs and lounges. These days there are many new age vinyls on the market that will categorically out-perform split or bonded leathers.

Our advise is to keep clear of these "leathers" and explore the use of high end leathers and vinyls.
Lead times?
Generally we run between 3-5 weeks depending on the schedule, suppliers, job difficulty etc. We have never run more than 8 weeks lead time. You choose the exact materials right here so you know exactly what you're getting, once that's done and the designs are set, we can start cutting your job.
Do you supply furniture raw ready for me to polish?
Sorry, we take too much pride in our craft to allow a home finish. Polishing furniture is an art in itself and can really make or break a well made piece of furniture. Further to this policy, we also don't do half jobs or supply incomplete furniture.
What's the warranty?
Lifetime against workmanship and materials on everything we make. Excludes normal wear and tear and incorrect care, use or storage.
Do we repair and restore furniture? 
We only repair and restore our own furniture so let us know if your Mabarrack pieces need a freshen up. It's a pretty inexpensive venture!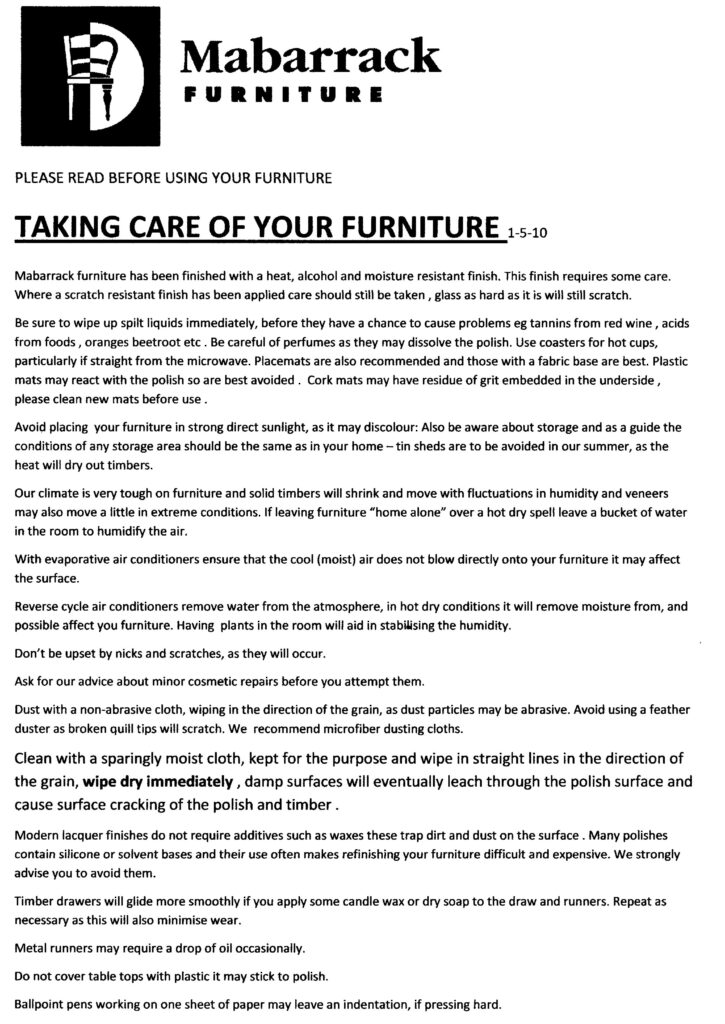 Any other questions? Fill in the form below for a speedy reply!
(For Sales related questions, please contact us through the wishlist or contact us pages)